Gathering Digital Contacts
Digital communication with customers has taken center stage for many retailers in 2020 and this is a permanent change to the retail environment. Customers are looking for close contact with their favorite stores on a 24/7 basis and you're missing out on a chunk of the market if you're not accessible online. Social media and email marketing are both effective and free ways to gain new customers as well as maintain a connection with your regulars, even if you're not selling through an ecommerce website. Collecting customer contact information for your email or social media should be at the forefront of your sales strategy for this reason.
Here are some ideas for how to collect customer email addresses or make social media connections:
Collect email addresses during your traditional check out in store.

Have social media information easily viewable in your store and encourage customers to follow you.

Cross-promote- if you have a successful social media account, encourage followers to sign up for email and if you have a successful email list, encourage social media follows.

Join local Facebook groups, where many will allow you to share your business posts for free. This will help increase your followers.

Add your social media information to your business cards.
Social Connections
Many businesses have turned to social media channels with creative methods to market their businesses. Whether or not your physical store is open, maintaining an online presence can help showcase your inventory and drive sales, as well as demonstrate your place in the community. Join us on Facebook, Instagram, Pinterest, and Linkedin where we post product information and tips from our Evergreen team, as well as sharing and promoting our retail partners' content to help navigate new challenges together.
What to post?
Knowing your customer and their interests is your starting point and that should guide every single post you make. The aims of business social media should be to build brand awareness, share relevant business information with your customers, and ultimately to increase sales. Here are some basic tips and ideas to achieve these aims:
The most basic posts should be sharing your products or services and what is unique or exciting about them

Always use quality images. They do not have to be professional, but make sure they are clear and achieve what you are trying to show

Share time-relevant information about your business, particularly important during the pandemic

Every month look for notable holidays or fun themed days you can make relevant to your business

Promote every sale, discount or special you have instore

Customers like to see the people behind the business- don't be afraid to model your products or share fun employee photos or events.

Animal photos do VERY well on social media- get your pets involved in the family business!

While you want to be unique and show personality, make sure all posts are appropriate and do not contain any material that could be considered offensive
Facebook Live Events or Watch Parties
Facebook Live Events or "Watch-Parties" have proved very successful for many businesses, where the stores "go live" on a Facebook video or where they share a video already on their Facebook page for a "Watch-Party" with followers. Video content can include anything from sharing current products for sale, letting customers know how they can access your products or shop online, suggesting activities your customers can do while at home, or simply connecting and saying hello. Some retailers have seen success by putting together product collections for their lives and selling several items in sets. Others have offered a free gift for the first 5 consumers who purchase during a live video.
Both "Live Video" and "Watch Party" are listed under the "Create a Post" button on your Facebook page. Remember you really are live when you "go live", so it's best to prepare in advance!
Facebook Marketplace
We wanted to highlight the potential benefits of using Facebook Marketplace to sell your current inventory. This tool will allow you to reach customers in your local area as more people than ever are looking to shop online and are also actively searching for local businesses to support. You can do the following with your current items on Facebook Marketplace:
We will provide our product images for you to use. On our website, simply look up the product of ours you have in stock and download the product image from the product page.

List your product with the image, name, a description, and the price on Facebook Marketplace.

Any potential buyers will message you about the items, and through messaging you can arrange payment via Venmo or PayPal, as well as pick up arrangements.

Be sure to operate in the same way you would you in store with no product physically handed over until payment is made.

We would suggest not cutting prices to any less than your regular seasonal promotional value.
Using Facebook Marketplace could be particularly helpful for those of you who don't have websites but still want to find ways to sell your current items online. If you have any questions, please get in touch and we will try to help!
Facebook and Instagram Stories
With Facebook or Instagram posts, the optimum number of posts you should make is 1 per day. However, the stories function is a great addition to your postings. You can think of Facebook stories like temporary posts. They stay for 24 hours in a bar at the top of your followers' newsfeeds and then disappear. They share information without overwhelming your followers' newsfeeds.
In terms of image quality and setting, stories can be much more casual. You could walk around your store showing products, you could share more personal messages to your customers, or you could snap photos of products you're currently selling and upload each to a Facebook story. It's an easy and accessible way for customers to view your product selection and get to know you.
Contactless Sales
Many of our retailers have established ways for customers to shop without coming into the store. Facebook Lives, as mentioned above, have been extremely popular and curbside pickup is now an established method of collection. The main point is that you should have an established process in place so customers can choose to shop remotely if they wish.
Visual Resources
Eye-catching, high-quality product images are vital to online shopping experiences, including social media channels. You're free to use any of our product images, which you can download from the website by clicking on the "Save Images" button directly under the product details on a product page.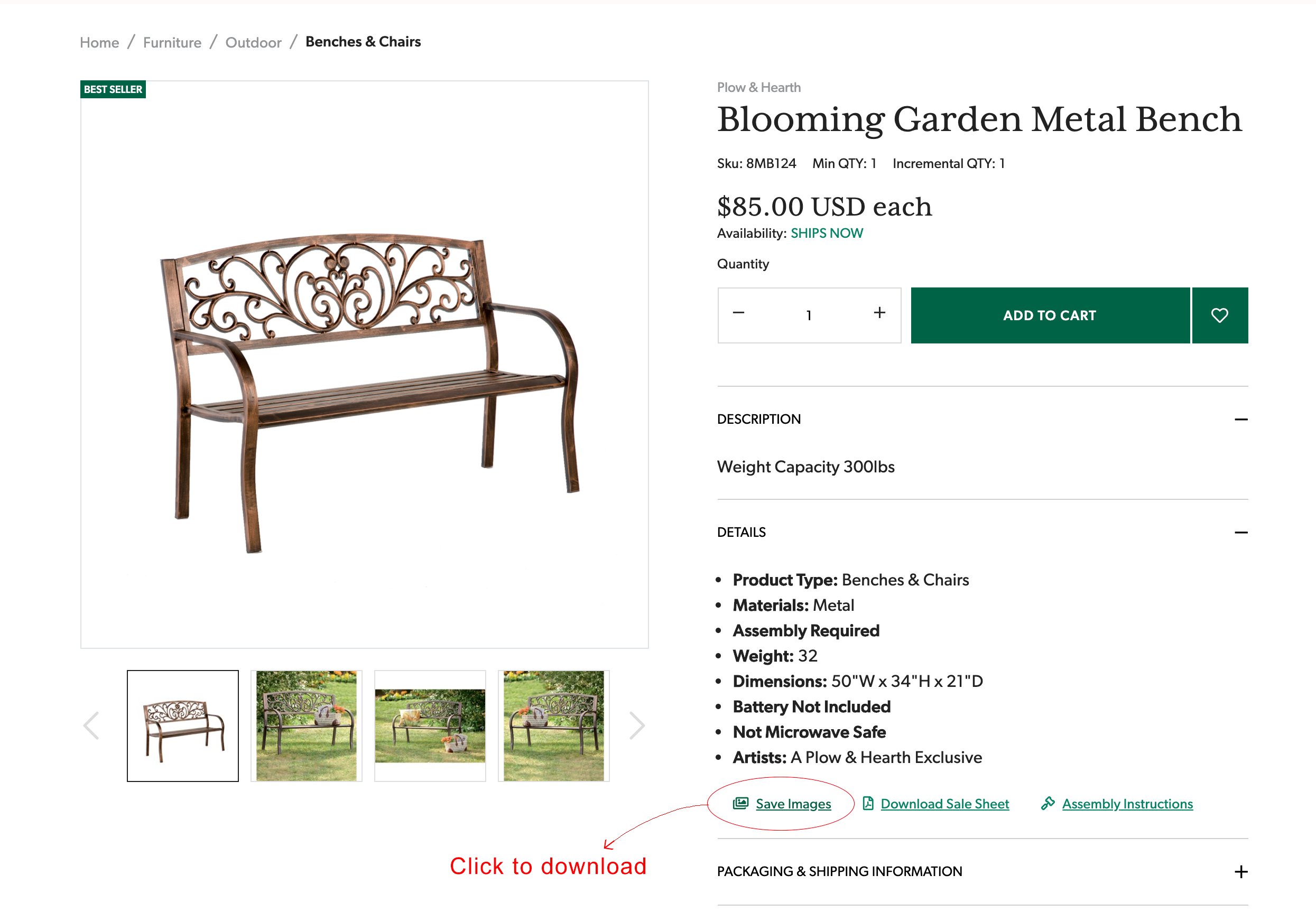 You may also want to utilize our countless product videos, which are available via our YouTube channel. They're organized into playlists, or you may want to search the channel by item number or by product category. You can share these on social media, or even embed them into your own website pages
Product Data
For any order you've placed, our website offers the ability to download Excel files of product data with only a few clicks:
Once you've submitted your order, within 24 – 48 hours, the order will appear on your dashboard or through the "orders" area of your account.
Select the order in question.
At the top of the order page, you can click on the button that reads: "Export Item Details to Excel".
This data will allow you to easily set up point of sale systems and e-commerce storefronts. Simply rename the columns to suit your specific requirements and upload the file into your system!
For independent retailers that aren't part of a corporate network, our Data On-Demand service offers a streamlined experience. Through Data On-Demand, you will gain immediate access to images and product information as soon as you receive your order confirmation email.